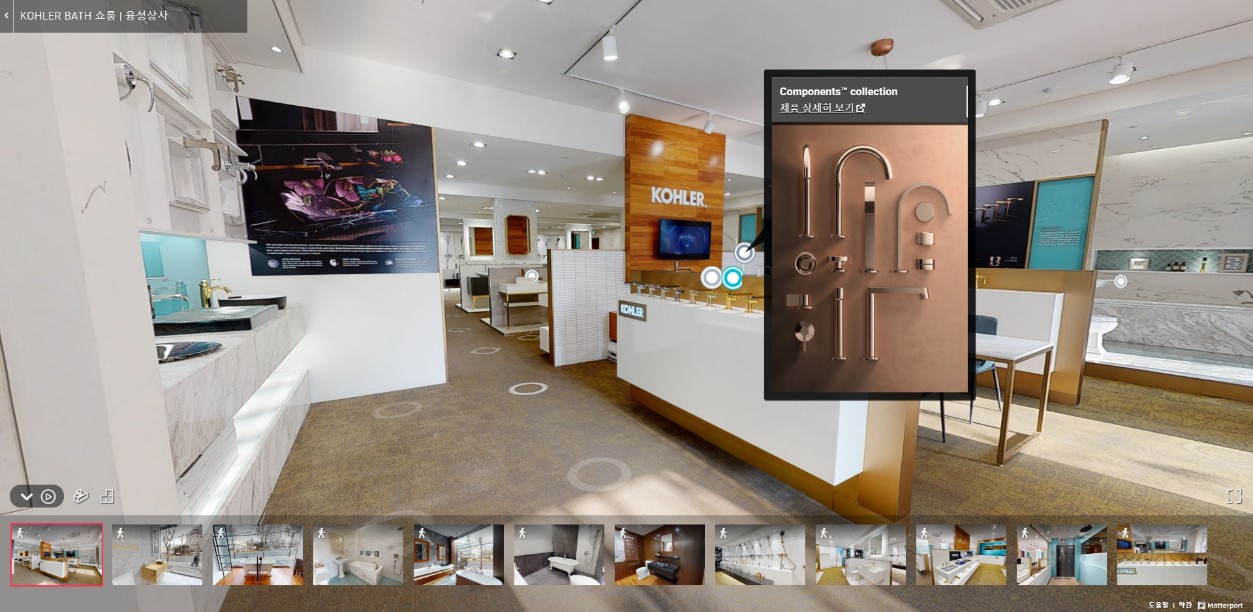 KOHLER announced on March 17, that they launched VR showrooms that show the actual showroom spaces online.
KOHLER, a premium kitchen and bath brand, launched VR Showrooms by recreating the actual offline showrooms into an online VR space. KOHLER VR Showrooms do not only exhibit the products seen at the actual showrooms but also provide detailed product information and related videos through link tags in the showroom.
Each showroom has different spatial atmosphere and exhibition products, allowing the viewers to see at a glance how the products coordinate with each interior style. The VR Showrooms can be accessed from the KOHLER website or their Facebook page.
KOHLER initially opened three VR Showrooms. The KOHLER Kitchen Showroom (149m²) located in the Lotte Hi-Mart Megastore Jamsil branch, the Yungsong Corporation Showroom (215m²) located in Seocho-gu, Seoul, and the Barro Ceramic Showroom (149m²) located in Haeundae-gu, Busan was recreated into VR spaces.
KOHLER plans to launch VR Showrooms for Barro Ceramic Nonhyeon and Yushin Housing Nonhyeon∙Busan branches in the second half of the year. In particular, the Yushin Housing KOHLER Showroom in Busan is a large showroom with two floors and a 793m² area, boasting a large range of KOHLER products.
Seonyoung Park, KOHLER's Marketing Director, said: "We thought it was necessary to migrate our showroom spaces online in the face of the 'contact-free era' coming from the coronavirus disease 2019 (COVID-19).Through the VR Showrooms, we hope to offer our customers an 'all-in-one' experience that provides rich information entailing information on products and interior styles by going beyond the accessibility limits of an offline space."
Barro Ceramic, Haeundae branch