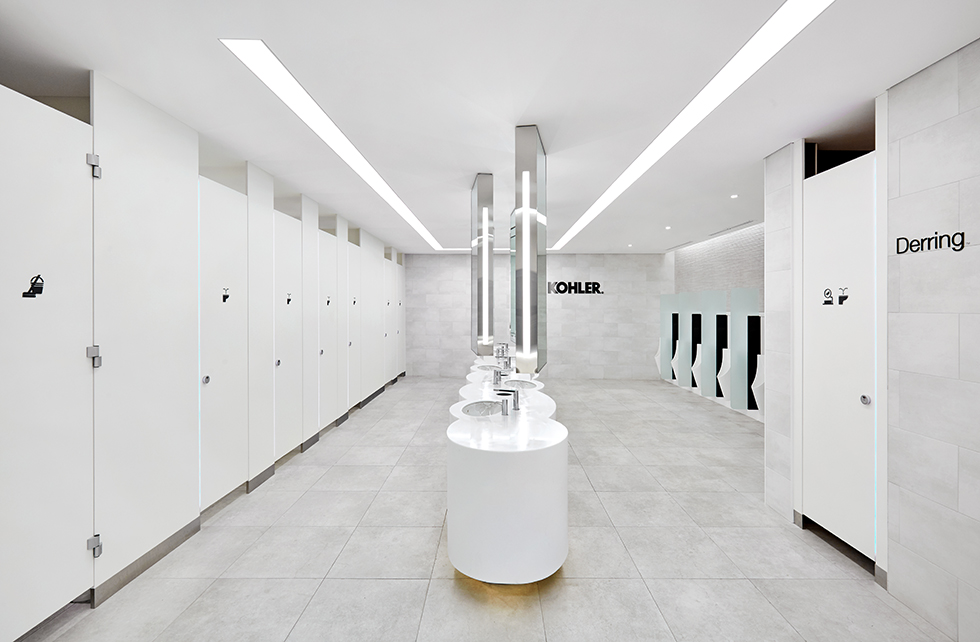 High-end American kitchen and bath brand Kohler is celebrating its 145th anniversary with Korea Airports Corporation, turning a Gimpo International Airport men's restroom into a premium showroom. Kohler has established itself as a luxury brand in kitchen and bath products, featured in projects worldwide as diverse as at the White House and Burj Khalifa in Dubai, and can be seen in leading Korean hotels, including Seoul's Lotte World Tower and the Four Seasons Hotel, as well as Jeju Shinwha World.

Entering the men's restrooms on the third floor of Gimpo International Airport's domestic terminal, you find modern and unique bathroom lavatories, faucets and urinals from Kohler. A result of collaboration with internationally renowned artists, the Artist Editions Caravan Persia on Conical Ball vessel sink features geometric patterns. Premium fixtures installed in the restroom showcase Kohler's high-quality lavatory experience, including Composed, the sensor faucet which features a sensor above the spout for added accuracy, and Struktura, the eco-friendly touchless urinal that uses a dual sensor system to detect a user's presence prior to flushing.

Additionally, bath suites were introduced who create a private space for fathers to accompany their children to the bathroom. The impressive Artifacts Suite is influenced by a dark motif, which pairs a Kingston Black toilet and an Iron/Impressions Brown sink basin, underscoring a chic masculine beauty. Inspired by studio ceramics, the Derrin Suite features the distinctly textured Derring top ball complemented by the Composed faucet for a modern touch.

Kohler will exhibit its unique designs and exemplary quality in a diverse display of faucets at the entrance of the restroom to grab the eye of airport visitors.
The designs of the faucets in the exhibit invoke a sense of boldness and beauty simultaneously: Beitou – resembling water flowing through a natural waterway; Composed – symbolizing simplicity, cleanliness, and confidence; Avid – arousing an elegant beauty and dynamism through a combination of curves and planes; and Artifacts – enabling free customization of spout, handle, and finish combinations.

Sun-young Park, director of Kohler marketing was confident that, "like the women's restroom collaboration last year, having a task force team for the men's restroom will maintain optimal condition and maximize management efficiency." She expressed, "Users will enjoy an elevated level of service rarely found in regular restroom facilities."

Planning and construction of the men's restroom this year, and the women's restroom last year, was carried out by EWAI, the same domestic company responsible for the interior design of the nation's premier hotels, including the Shilla Hotel and Best Western Hotel. Spanish PORCELANOSA brand tile, chosen to enhance the facility's high-quality environment, was provided at no cost by Kohler's official distributor, Barro Ceramic.
More products by Kohler can be found at the Kohler Showroom at the Hakdong Intersection in Nonhyeon-dong, Gangnam-gu, Seoul. (Sales inquiries: Baro Ceramic. 172 Hakdong-ro, Gangnam-gu, Seoul. Tel. +82-2-3443-8600)