Singapore – 14 August 2017 – On 31 August 2017, about 100 guests comprising Singaporean and international architects and designers, David Kohler, Larry Yuen, Angel Yang and our team gathered to cheer on the six speakers who shared their ideas and thoughts on the topic.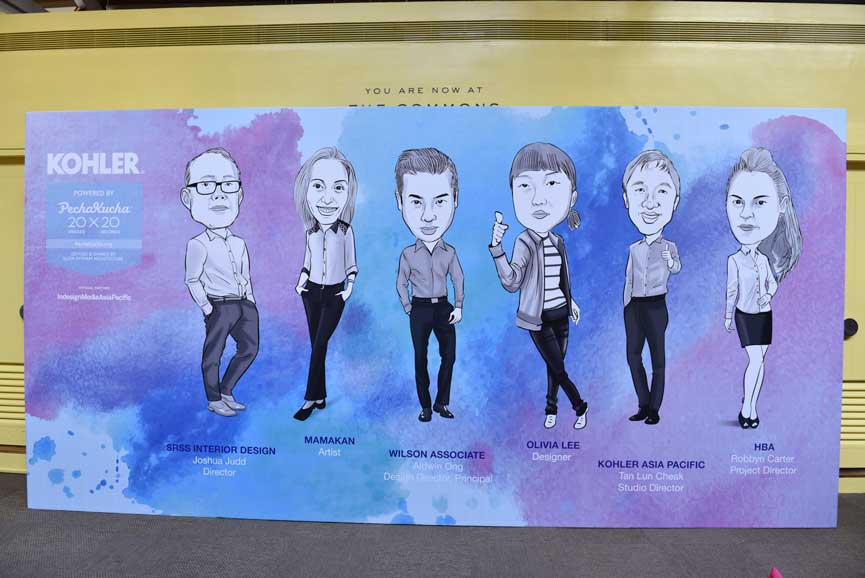 Together with our media partner Cubes' and Indesignlive.sg's editor Narelle Yabuka, we led through a fun-filled pre-evening event at The Commons at the Working Capitol workspace.
The six speakers were Joshua Judd – Design Director at Smallwood, Reynolds, Stewart, Stewart (SRSS), Robbyn Carter – Associate at Hirsch Bedner Associates Pte Ltd (HBA) Singapore, artist Kristine Oustrup Laureijs aka Mamakan, Aldwin Ong – Principal at Wilson Associates Singapore, interdisciplinary industrial designer Olivia Lee at Olivia Lee Studio, and Lun Cheak Tan – our Studio Director for Kohler Asia Pacific.
Joshua Judd kicked off the Pecha Kucha session with an excursion on what AI, augmented reality and VR have to offer. He is an interior designer in Singapore who has been practicing since 1990. After having had his own interior design firm for ten years that took him all over the world for his projects, he moved from London to Singapore where is a design director at SRSS.
Interior architect Robbyn Carter who has moved to Singapore four years ago didn't miss a beat and took the audience captive on her journey through interior designs in relation to new materials and their constraints. Robbyn has been specializing in the creation of exceptional spaces for the hospitality market the world over. As an associate at HBA Singapore, she delivers custom-made design strategies for the property marketplace which often lets her walk the line between the commercial and art world to complete the challenges placed before her.
Looking through the lens of edible plants with a particular focus on those from Singapore, Mamakan (Kristine Oustrub Laureijs) explored a different point of view with the invited guests. As a Danish artist in Singapore, she experiences the botanical history and contemporary culture of plants and their continuum.
Mamakan expresses herself through photography, illustrations and creates interactive and immersive art experiences for her fans.
Aldwin Ong took time away from his explorations in the kitchen to talk to the Pecha Kucha guests about the timelessness of design or the lack thereof. Aldwin is a principal and design director at Wilson Associates in Singapore who likes to discover and explore – whether this is in his work through highly aesthetic designs in the hospitality sector, travel or reading. His passion is design and his design is passion.
Olivia Lee danced with the ideas of people's expectations in connection with product and industrial design. Her Pecha Kucha focused on the interplay of art, design and experience, and ultimately the discovery respectively the emotional resolution. Beyond her presentation and her work at the Studio, Singaporean designer Olivia has a passion for education and has been teaching enthusiastically about industrial design in different institutions in Singapore.
Lun Cheak Tan's Pecha Kucha was all about the Internet of Things and new products. Lun funneled our world of too many choices, too many changes, too many technologies into a simple solution. Get them all – don't choose. He explored how this will influence people's lives and simplify it.
After the presentations, the guests mingled in The Commons that is only a 20-minute leisurely walk from the new Kohler Experience Center in Singapore.
Founded in 1873 and headquartered in Kohler, Wisconsin, Kohler Co. is one of America's oldest and largest privately held companies comprised of more than 30,000 associates. With more than 50 manufacturing locations worldwide, Kohler is a global leader in the manufacture of kitchen and bath products; engines and power systems; premier furniture, cabinetry and tile; and owner/operator of two of the world's finest five-star hospitality and golf resort destinations in Kohler, and St Andrews, Scotland.